To reap all the benefits cardiovascular exercise (walking, cycling, swimming etc.) can provide, you need to be sure that your fitness routine is providing you with the right number of METs.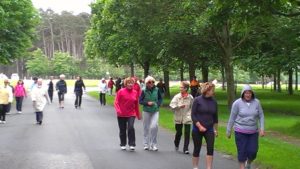 METs are the rate at which our bodies use oxygen (metabolic equivalents). If you accumulate >15 METs every week, then you get significant benefits in terms of fighting cancer. Studies have shown as little as 9 MET/hrs of physical activity over a seven day period increases survival rate for breast and bowel cancers.
Your fitness level has a direct impact on how many METS you expend per minute. So let's say it take you 16 minutes to walk a mile, your pace is 3.75 miles per hour, which corresponds to 4.3 METs per hour. If you walk 3 ½ hours over a seven day period you will accumulate 15 METs for your week.
I will be giving exercise and nutrition talks for patients, families, survivors and health professionals during breast cancer awareness month as part of my pro-active educational programmes One of these talks will take place Thursday, 16 October 7:30pm–9:00pm at Good Counsel G.A.A. Club Davitt Road, Drimnagh, Dublin 12. This event is special for me because it takes place in my own home town.
Hope to see lots of familiar faces

FREE EVENT – ALL WELCOME Marie Murphy_Breast Cancer Awareness Month_Save the date
Please contact Marie at marie@mariemurphyhealthfitness.com if you would like a customised training programme.