Last night I was at the book launch of Stronger Than Yesterday – living your life beyond adversity written by my friend Cathy McCarthy. It was a wonderful evening which took place at the Freemasons' Hall, Dublin with a fantastic turn out.
Cathy herself faced one of the hardest challenges in life – cancer. We first met in 2010 when Cathy was a participant in my breast cancer study.
Cathy's book shares many stories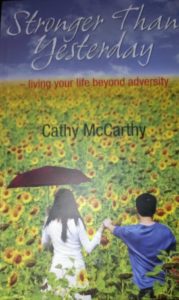 of the diverse challenges life throws out, but it is the positive things that come from our adversities that shapes us. Cathy's book is full of inspiration and I'm sure it will bring strength and courage to all who read it.
Cathy's asked if I would write a piece on the Murphy (METs) Programme for the book. I had contributed to her first book "Not the Year You had Planned" and I was only too delighted to be included in the second.(p 160-165).
All profit generated from Cathy's book will be donated to Jack Kavanagh Foundation (paralysed as a result of a surfing accident) and the Waterford High Hopes Choir. The photo below includes Cathy singing with Jack and High Hopes Choir.
Congratulations Cathy on completing yet another amazing book!