Exciting new project is taking place for cancer survivors and their families in Ballinasloe, Co. Galway. Jacqueline Daly Director of East Galway & Midlands Cancer Support Centre envisioned how to further enhance survivor's recovery in none other than building a gym on site to improve health and fitness easily and conveniently for all members.
This is a state of the arts project and the first of its kind in Ireland. The centre has licenced the 'Murphy (METs) Prograemme' which will allow classes to be thought by qualified personal. "I have worked towards this moment for many years; to finally teach others to teach my programme safely and effectively and it is my goal for the 'Murphy (METs) Programme' to expand to other centres across the country so that a greater number of cancer survivors can reap its benefits".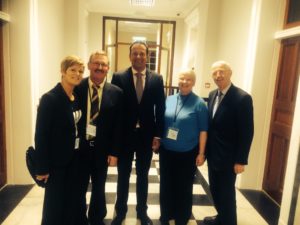 This week we met with the Minister of Health 'Leo Varadkar' and discussed the plans for the centre. I had the opportunity to share with him a little about the 'Murphy (METs) Programme' and my goal to increase awareness to the health benefits associated with daily physical activity and draw attention to the amount and intensity of physical activity for cancer survivors to achieve these benefits; physiologic, metabolic and psychological.
I will keep you posted on our progress in Ballinasloe, Co Galway.